By Shannon Gallagher
Photographer Ted Preuss' work has a timeless aesthetic. Although he has recently begun to shift from the figurative photography, for which he is known, into more landscape and seascape imagery, the goal is the same: to create simple, enduring, beautifully shot images in black and white that expose the natural elegance of the subject he is working with. He is acutely interested in lines and shapes present in the composition, regardless of whether the image is of a nude figure or the rocky terrain of a seaside cliff.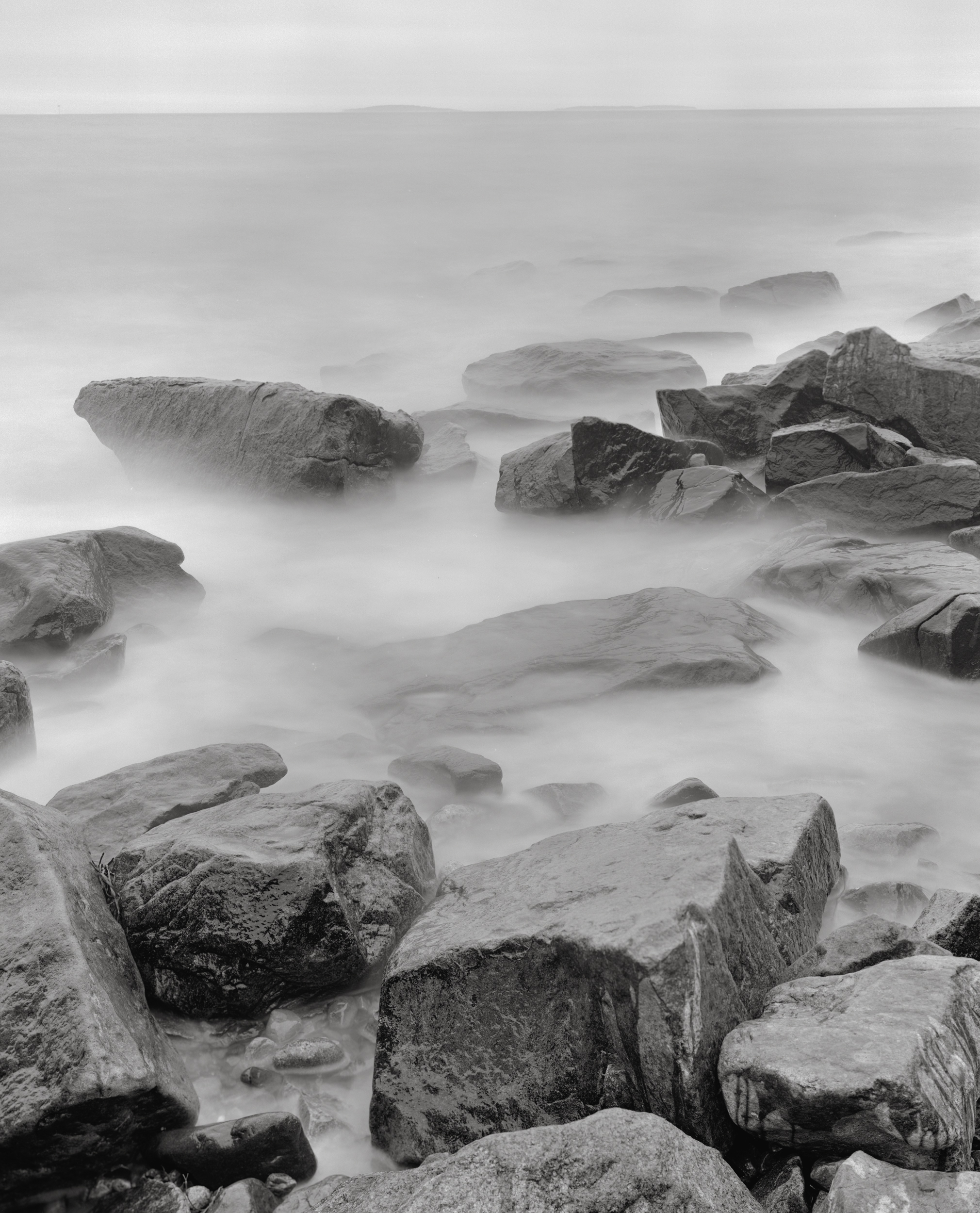 Otter Cove - Silver Gelatin Print by Ted Preuss
As the focus of attention varies, the approach to photographing must change as well. When he plans on photographing outdoors, Preuss often scouts out the places he's interested in capturing on film, in order to create his vision. "When I'm working with natural elements, I often have to just sit and wait for the right moment, the right light, etc. Sometimes I wait for the waves to come crashing in a certain way, or if I want there to be fog in the image, I just have to be patient- I have no control over it. When I am shooting figurative work, however, I can direct the model, conduct the shoot to go the way I want it to." Preuss said that while it is difficult to choose a particular series of which he is fondest, he does greatly enjoy shooting landscapes and seascapes. "It's very calming, and I get to enjoy the natural world."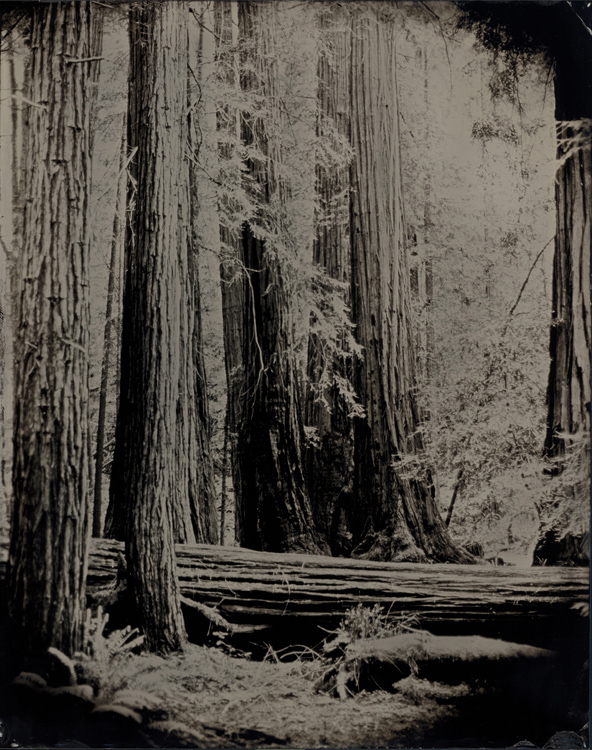 Muir Woods - 8x10 Wet-plate Collodion Tintype by Ted Preuss
One challenge of working with the natural environment, aside from a lack of control of the elements, is the tintype process that he often utilizes. He keeps his darkroom chemicals in his car when he is out photographing nature, because the procedure must be immediate. "Often, when I go hiking, I'll pull over to the side of the road and shoot, then use the portable darkroom in my car to develop the image," he said. Preuss pours collodion (a substance used during the Civil War to suture wounds together with linen bandages) onto a piece of glass, or aluminum. Once the collodion is tacky he dips the plate into silver nitrate for three minutes. Then, while it is still dripping wet, he must insert it into the camera, take the shot, and then process it. He only has about five minutes before the collodion dries and is no longer useful. The results are hauntingly alluring black and white images with beautiful imperfections indicative of the tintype process. In his series The Sea, Preuss has employed a long exposure time to capture soft, ethereal images of flowing water that feel quite different from the uncontrollable, rushing water that exists in reality. "In actuality, [the sea] is full of vitality and life, and it's not calming at all," he said. The five-minute exposure time lends a dreamlike quality to the images.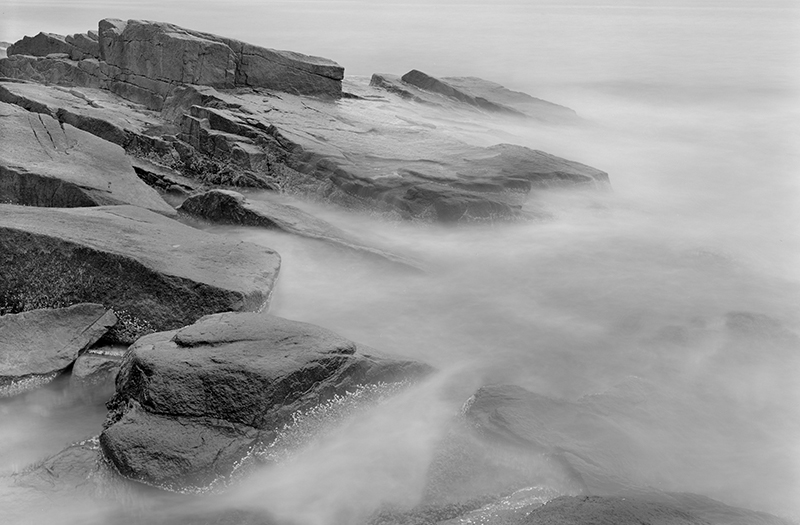 Otter Cove #2 - Silver Gelatin Contact Print by Ted Preuss
Every year, Preuss and his wife spend a month in Maine, and he does a lot of shooting in Acadia National Park, the oldest national park east of the Mississippi River. He described the scenery as "incredible, with lots of cliffs and waves constantly crashing into the shore." The park encompasses mountains, an ocean shoreline, lakes, forest, and islands, and provides a wealth of inspiring scenery worthy of photographic documentation. He also frequents the Point Lobos State Park of Central California's Pacific Coast, and plans to return this year as well. Preuss, who typically works on a smaller scale, is enjoying the large scale of the new photographs currently on display at ZIA Gallery.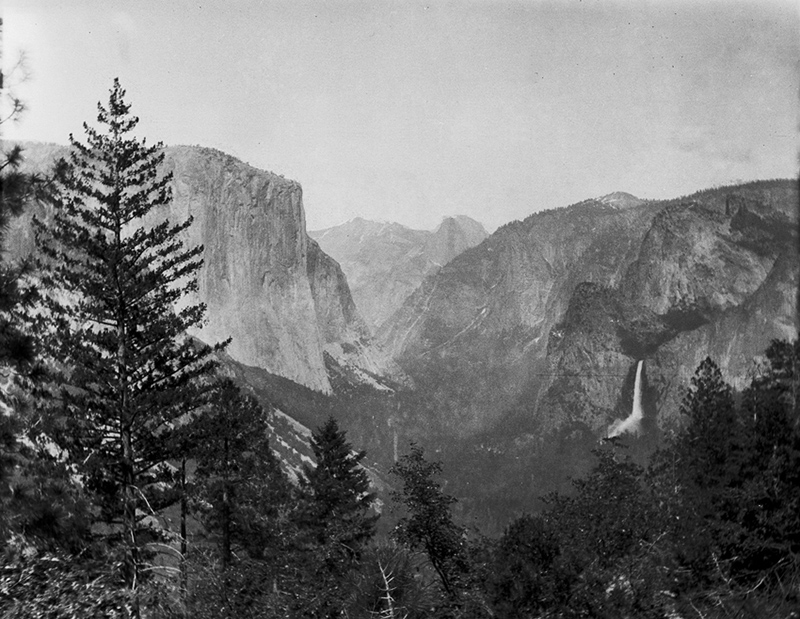 Yosemite 1917 - Albert A. Jeaneret (Great Grandfather) - Silver Gelatin Print , printed by Ted Preuss
Some of the pieces are as large as 3 feet across, and present an environment that the viewer can feel as though he or she can step into and be a part of. He is also delving into the idea of working with some negatives that he found from 1917. The photos were taken with a 4×5 camera by his great grandfather while he was traveling throughout the United States, in places like Yosemite National Park and Niagara Falls. "I'm not sure exactly where I'm going with that yet, but it has been fun to explore," he said. Ted Preuss' work is on display at ZIA Gallery through February 28, 2015. These works range in imagery and technique from large archival pigment prints, to 10" x 8" tintypes, 16 x 20 silver gelatin works, and small, beautifully subtle platinum palladium photographs including some printed on a leaf skeleton. Preuss' fascination and mastery of various techniques are clearly evident in the current exhibition.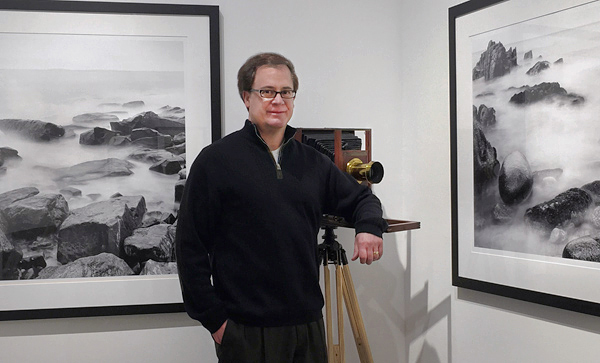 Read more ZIA articles...
ZIA Gallery